weeee! it's TUESDAY once again! and tonight is the 5th session of the theater workshop i'm enrolled in. and i'm having sooo much fun! here are my posties for this week:
your fantasy name needs to be connected to EARTH..
things are a lot better now.. i can already move normally.. yehey!
To join "Post It Note Tuesdays.. with SupahMommy" click on this post it: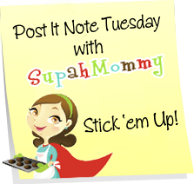 Share