i again was unable to blog as much as i wanted to.. and it's again tuesday!
so, here are my post it notes for this week:
.. i will blog about this within the week..
it's really nice to be going out of town with great friends and laugh out loud!!
but..
Happy Tuesday everyone!
To join "Post It Note Tuesdays.. with SupahMommy" click on this post it: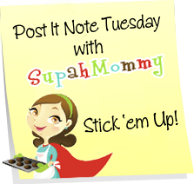 Share