The Philippine Independent Films have been so popular over the years. Even main stream artists are interested in taking part of thise genre. And the one that highly popularized Indie Films is Cinemalaya, which is currently on its 6th year!
I have enjoyed last year's batch of competition entries, however, I was not able to see all. Now, I'm determined to watch all the movies that are for competition. And there are 14 full length films and 2 sets of short films that are competing for recognition and awards for this year's festival. This is from July 10 - 18. And we got the Festival Pass for Php 1,500.00 to be able to see all these films. We even mapped out the schedules of screenings so that we would be able to make the most out of the pass.
For this week's Post It Notes, I'd be sharing my POVs in the films I have seen so far (8 competition films and 1 feature):
I have 8 more competition films to see (counting Set B as one) and hopefully one more feature film, so stay tuned.
Join the Cinemalaya festivities and go to CCP this week! Let me know what you think about these films!
To join "Post It Note Tuesdays.. with SupahMommy" click on this post it and get your stickies here!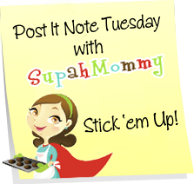 give me 5! :)
Share