Okay, I wasn't really able to blog as much as I wanted to
last week
. I guess because a week is too short for the things I want to post and the things I have yet to attend to in life. So, for this week's PINT, I would be sharing with you my plans for the coming month or the next 30 days or so! Weee! I'm sooo excited!
I sure am filling my life with art.. until I drown.. or even if I do..
Happy Tuesday everyone! How's arts and culture in your life?
To join "Post It Note Tuesdays.. with SupahMommy" click on this post it and get your stickies here!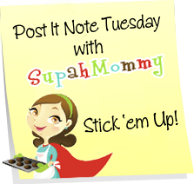 give me 5! :)
Share