Here's my PINT entry for this week. These are the things I hope to blog about in the near future.
Team Carnival
for Most Liked Blog Entry of the week! Thanks! Ü
To join "Post It Note Tuesdays.. with SupahMommy" click on this post it and get your stickies here!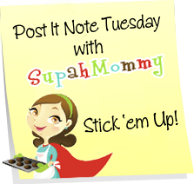 give me 5! :)
Share