I'm back! It has been a long time since my last PINT post. And I miss it sooo much! I'm so glad it's Tuesday. Here are my post its for the day:
We were able to catch Mapua Tekno Teatro's Dramafest 2010. And here are my notes.. (how appropriate :))
The PETA Theter would be having a dance even this month called DANSE. It would feature Bellydancing and Middle Eastern dance fever, Pinoy and French contemporary dance and Agnes Locsin's masterwork: "Sayaw, Sabel". Together with Slenda, they had a contest:
I hope everyone's having a good Tuesday! Until next week! Mwah!!
To join "Post It Note Tuesdays.. with SupahMommy" click on this post it: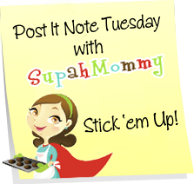 give me 5! :)
Share